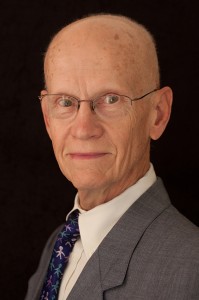 John Judson
John Judson, M.D., of Lemoyne, Pa., was awarded the Essence of Humanity Award on April 28, 2011, at the United Way Volunteer Center's Annual Award Program in Harrisburg.
The Essence of Humanity Award recognizes individuals who, beyond the requirements of their work, demonstrate remarkable human qualities including courage, love, strength, determination, and persistence when dealing with adversity.
About John Judson
John Judson's nomination essay was submitted by Karen Snider. The following are excerpts.
John Judson has demonstrated a remarkable passion for helping people, both locally and globally, who suffer through severe physical conditions. Since graduating from Georgetown Medical School in 1965, Dr. Judson has completed residencies in general surgery at Yale University and cardio-thoracic surgery at the University of Utah. Woven throughout his professional medical career in the United Sates has been a deep commitment to helping address the tremendous unmet medical needs in developing nations.
His incredible commitment began in 1968 when he served a residency at the hospital Albert Schweitzer in central Haiti. Since 1984, he has returned to work at the hospital as a volunteer surgeon on more than 50 occasions. He served as Medical Director and Chief of Surgery at the hospital from 1997 to1999.
Since the earthquake in Haiti a year ago, Dr. Judson has traveled there many times. In addition to volunteering to provide surgeries, he also helps address the cholera epidemic. Since the earthquake, he does cardiac surgery as well as non-emergency surgery and cleans chronic infected wounds caused by post-earthquake conditions.
Dr. Judson has also lent his considerable medical talents in other underserved and poverty-ridden countries. From 1989 to 1996, he traveled approximately 10 times as a volunteer cardiac surgeon to Nicaragua. He has also participated in three Rotary medical missions to Ethiopia and the Dominican Republic.
Dr. Judson served as a visiting lecturer in Wroclaw, Poland, from 1984 to1985. Since 2000, he has been a member of the Executive Committee and Board of Directors of the World Surgical Foundation.
Dr. Judson has also demonstrated a remarkable commitment to helping to address medical needs in Central Pennsylvania. He was the Medical Director of the Hamilton Health Center from 2001-2003. He also served on the Board of the Community Check-up Center and is a member of the Advisory Committee of this charity. Dr. Judson is an active pilot and currently serves as a volunteer Angel Flight Pilot. Over the past several years alone, he has made dozens of flights in this capacity.
He has been an active Rotarian since 1997, both at the club level (Rotary Club of Harrisburg) and the Rotary District. He is currently the President of the Harrisburg Rotary Club. In this capacity, President Judson is leading many service projects, including work with Christian Churches United to provide overnight support services to the homeless at a local shelter.
Dr. Judson credits his wife of 47 years, Ann Marie, for helping nurture and develop his sense of caring and commitment. The Judsons have five grown children and five grandchildren. Dr. Judson has been an inspiration to other physicians and lay volunteers.
Since 2000, Dr. Judson has been a medical consultant with the Commonwealth of Pennsylvania. He and wife Ann Marie received the Community Services Award from the National Physicians for Social Responsibility in 1993. Dr. Judson was presented with the Rotary Club of Harrisburg's Community Service Award in 2004 and the Robert D. Hansen Excellence Award in 2006.
About Essence of Humanity
The Essence of Humanity Award honors those who inspire the best in all of us, through the presentation of the award and also by elevating the narratives of the recipients. The program began in 2001 when business and community leaders in South-Central Pennsylvania established the award. The award is presented by participating organizations in collaboration with the Essence of Humanity program's steering committee, which evaluates the nominations. For more information, contact Robin Stauffer, Executive Director, at 717-293-4498, or visit the website at www.essenceofhumanity.org.