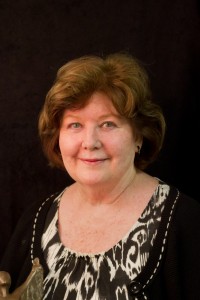 Linda Grudi
Linda Grudi of Palmyra was awarded the Essence of Humanity Award on November 7, 2011, at Catholic Charities annual Come and See Dinner, a community gathering to support Homes for Healing.
The Essence of Humanity Award recognizes individuals who, beyond the requirements of their work, demonstrate remarkable human qualities including courage, love, strength, determination, and persistence when dealing with adversity.
About Linda Grudi
Linda Grudi's nomination essay was submitted by Hilary Hoover. The following are excerpts.
For more than 10 years, Ms. Grudi served as the Program Director for the Interfaith Shelter for Homeless Families. She retired from her long-standing position in September 2010, but while there, her incredible leadership, dedication to the program, and most importantly her compassion for those facing adversity was a true inspiration to those who knew her. Much of her ability to exhibit love, patience, and genuine kindness to the families at Interfaith came from her first career as a mother. Later in life, after her children were grown, Linda went back to college and eventually earned her Master's in Community Psychology from Penn State University.
While at Interfaith, Linda demonstrated strong advocacy for social change, and in fact thought of herself as a change agent. She was active in the Capital Area Coalition for Homelessness and supported efforts to educate the wider community on the issues facing those who experienced homelessness. She worked diligently to identify and address the gaps in service and helped to organize training sessions for shelter providers. She was instrumental in reducing the eviction rate, believing strongly that every family deserved a
chance to make positive change.
Linda's belief that all people deserve to be treated with love, dignity, and respect was a widely known and respected expectation. Even after her retirement last year, she is still often remembered for her hard work and incredible leadership around this important issue here in the community.
About Essence of Humanity
The Essence of Humanity Award honors those who inspire the best in all of us, through the presentation of the award and also by elevating the narratives of the recipients. The program began in 2001 when business and community leaders in South-Central Pennsylvania established the award. The award is presented by participating organizations in collaboration with the Essence of Humanity program's steering committee, which evaluates the nominations. For more information, contact Robin Stauffer, Executive Director, at 717-293-4498, or visit the website at www.essenceofhumanity.org.