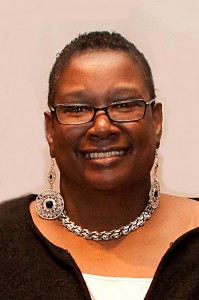 Ruby Jones
Pastor Ruby Jones of Lancaster, Pa., was awarded the Essence of Humanity Award January 17, 2011, at the Crispus Attucks Community Center's Martin Luther King Jr. Breakfast, held at the Lancaster County Convention Center and Lancaster at the Marriott at Penn Square.
The Essence of Humanity Award recognizes individuals who, beyond the requirements of their work, demonstrate remarkable human qualities including courage, love, strength, determination, and persistence when dealing with adversity.
About Ruby Jones
Ruby Jones' nomination was submitted by Jennifer Williams of Crispus Attucks Community Center. The following are excerpts from the nomination essay.
In a life such as Ruby Jones', it is difficult to delineate the requirements of her work. A Christian pastor serving inner-city Lancaster, her life is devoted to God and others. Ruby sacrifices her personal time and her resources, including her home, for those she serves.
In addition to her prison ministry, she is a phone call away for those needing counsel or encouragement, and welcomes them to visit her as well. She opens her home with simple loving hospitality for weekly get-togethers of folks struggling to get their lives in order after addiction and often incarceration have devastated their families.
With limited financial resources, Ruby provides meals for the meetings and develops networks to provide food and clothing for those in need. She also provides activities for children of the families who visit.
Ruby is an example of love as she remains in good spirits, encouraging others while she faces personal hardship, trusting in God for her strength while being honest about her struggles.
She has shown courage, determination and persistence in pursuing her college studies even while serving those in need. Ruby has inspired several others through her love and leadership to develop themselves as volunteer group leaders so the ministry can serve more of the community. She also has inspired community participation in church activities in her home, coordinating services for all ages.
Ruby has dealt with numerous challenges and has overcome tremendous obstacles in her life. One reason I am nominating Ruby for this award is that she is not a self-promoter or a recipient of major grants. I have always been amazed and inspired by Ruby's faith in the face of hardship, her humor and honesty. She shows understanding and compassion as well as "tough love" for those she serves.
About Essence of Humanity
The Essence of Humanity Award honors those who inspire the best in all of us, through the presentation of the award and also by elevating the narratives of the recipients. The program began in 2001 when business and community leaders in South-Central Pennsylvania established the award. The award is presented by participating organizations in collaboration with the Essence of Humanity program's steering committee, which evaluates the nominations. For more information, contact Robin Stauffer, Executive Director, at 717-293-4498, or visit the website at www.essenceofhumanity.org.